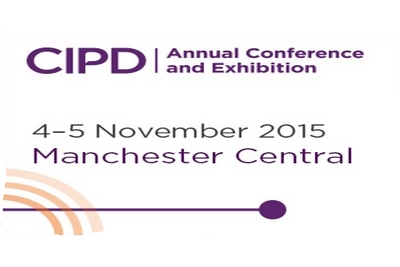 Sarah and I are just about recovered from our trip to the CIPD Annual Conference and Exhibition last week, and I've had lots of thoughts buzzing round my head so wanted to get some of them crystallised!
We had two great days at the exhibition, full of useful, interesting and inspiring conversations. It's always beneficial to step outside the day-to-day running of the business and spend time thinking and talking about it with others. Talking to HR professionals about what we do and how we do it re-energises me, and reminds me of our ethos, our approach to franchise recruitment and to small business clients. Talking to people about our brand, our priorities and how we work, and getting feedback on that reconfirms that we are on the right track.
One of the things I found myself saying several times to interested HR professionals during our time in Manchester is that it's vital that anyone considering working with us can identify strongly with our brand, and feels comfortable with it. If someone is considering a franchise, yes of course they need to consider what they get for their money with the various options available, that's important.
But it's more fundamental than that. If you don't fully identify with a brand, you won't sell it effectively, and your business will either fail or won't be as successful as it could have been. More than one person spoke to us about the "non-corporate" nature of our brand and our approach. They meant it as a compliment, and I took it as such, but for some HR professionals considering a move into self-employment, a more corporate brand might suit them better, and for those people I would positively encourage them to look elsewhere. It's not just a business, it's your business, and it's all about you, your personality, your approach and your priorities, so they need to tie in with ours if that collaboration is going to work.
Similarly, if you don't 'gel' with the people you'll be working closely with, you won't enjoy your work and won't find yourself motivated. I emphasised to several people I spoke to in Manchester that they would be working closely with me, and with Sarah also – we are not sales people tasked with selling the franchise opportunity – we are the people franchisees actually work with day to day.
We had lots of other compliments, about our professionalism, our honesty, our openness to different working patterns, and the "breath of fresh air" our stand brought, which was all lovely. I also had some very useful discussions with other exhibitors about possible collaboration, which was great.
Sadly because I spend all my time on the stand during the conference, I don't get to attend any of the sessions, but it was lovely to see our franchisees who came with us to Manchester coming back from the various speeches and seminars they attended full of enthusiasm, passion and revitalised interest in what they do, and a determination to take that back to work and use it for the benefit of both their clients and their marketing activities. That's what it's all about!
If you're interested in talking to us about becoming a partner with face2faceHR with bags of support, do get in touch.